Our Mission
Reins and Rainbows serves children, youth, adults, and families by providing emotional and behavioral support through experiential learning and cognitive behavioral therapy.
Assisted by equine partners who provide stability and unconditional positive regard, a safe and supportive environment is created in which participants learn and practice life skills and behaviors that will enhance the quality of life of the individual, family and the community in which they live.
No person will be declined services based upon race, gender, religion, sexual orientation, financial status, or beliefs.
Reins and Rainbows is a 501 (c) 3 non-profit agency
OUR SERVICES
Reins and Rainbows offers a variety of behavioral health services to individuals and families struggling with life stressors, past trauma, ineffective coping strategies, and emotional dysregulation.
Reins offers individual and family therapy, social-emotional education groups for children and youth, and parenting support for families with behaviorally challenging children/youth.
Reins and Rainbows accepts self and private pay referrals, referrals from the Department of Child Services, Juvenile Probation, Hands of Hope, schools and community resources.  
INSURANCE
Reins and Rainbows is a privately owned agency. We do not accept insurance or Medicaid.  Families seeking therapy services are welcome to file claims with their personal insurance or HAS accounts for reimbursement.                           
Please feel free to inquire about Reins' low fees and sliding scale here
Handy (pictured here) is one of our therapy horses at Reins. He works with children ages 1-5 who have experienced trauma.
Most of these children do not have words to describe what happened or how they feel; instead they act out their feelings through behaviors. The horses teach these kids what being safe feels like and how to express their feelings.

We are thankful for our therapy horses at Reins.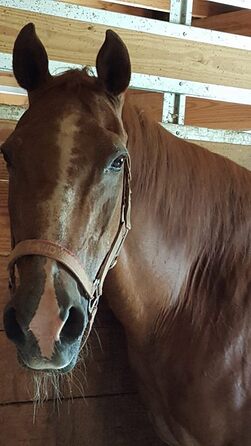 "Horses are teachers of self-awareness. They are keenly alert, intuitive, emotional, and authentic animals. 
Like humans, horses are social beings that live together in herds with defined hierarchies, roles, responsibilities, and relationships very similar to our family systems.
​Equine-assisted psychotherapy offers the client new opportunities and choices for relationship and emotional growth." – Joan Rieger, MA LPC